Featured Works - February, 2018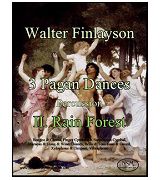 Score and parts, separate editions for the 3 pieces. Exciting, fun to listen to, and quite intoxicating, these pieces make great programming options for percussion bands. View the listing for instrumentation, previews and audio samples.
Score and parts for flute and clarinet. Originally for two flutes, Hoffmeister's "Sonata in D minor" (Op.50, Duo 3) works beautifully with the flute-2 part transcribed for clarinet; other than transposing for a B-flat instrument, no modifications were required.
>