Featured Works - December, 2018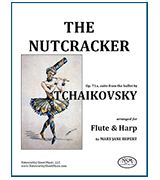 Season's Greetings! Celebrate the holidays with Mary Jane Rupert's incomparable arrangement of "The Nutcracker" for flute and harp - all of the pieces from the original Tchaikovsky ballet Suite Op.71a, except the Overture. Download the entire work or cherry pick PDFs of your favorites ... Waltz of the Flowers? Arab Dance?
Score and parts for flute and clarinet. Originally for two flutes, this duet by Devienne (Op.10, Duo 1) works beautifully with the flute-2 part transcribed for clarinet. It's fun to play and other than transposing for a B-flat instrument no modifications were required. Edited by Richard Evans.
>