Featured Works - June, 2019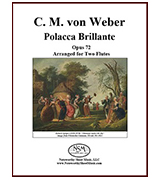 A copy of Carl Maria von Weber's Polacca Brillante, Op.72 (originally for piano) was among the works found in the Gassett Collection, anonymously arranged for two flutes. The flute duet version of L'Hilarité, as it is alternatively and aptly named, is highly amusing and fun to play.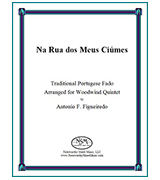 Antonio Figueiredo, a native of the Azores, created a beautiful arrangement of this popular traditional Portugese fado for woodwind quintet. Na Rua Dos Meus Ciúmes is a passionate love song about the intense jealousy experienced by a girl upon seeing her lover pass by with another woman on the street near her home.
>