The following review of Mary Jane Rupert's arrangement of The Nutcracker for flute and piano was written by John Ranck. It was published in the December, 2013 issue of The Flute View.
======================================
The Nutcracker, by P. Tchaikovsky
Arranged for Flute and Piano by Mary Jane Rupert
This attractively-produced transcription contains all of the movements in the suite derived from that composition of the Nutcracker (except the Overture), a perennial favorite at Christmastime. In addition to providing a good selection of holiday tunes to entertain listeners during holiday parties, this edition will more importantly give flutists an opportunity to get most of the ballet's difficult flute passages under their fingers in context (in preparation for potential auditions), as well as giving them a crack at the lovely oboe solo in the Arab Dance movement.
Dr. Rupert is a master at transcribing piano parts for the harp, and, as is clear from this arrangement, at orchestral reductions. Pianists, however, will have their work cut out for them in the Waltz of the Flowers, especially the harp solo contained therein. The flute part is well laid out, avoiding awkward page turns; pianists will most likely want a page turner in the faster movements like Trepak.
John Ranck, DMA
http://johnranck.net/studio/studio.html
The following review by Jonathan Santa Maria Bouquet of The Piano in Spain by Ana Benavides was published in the Newsletter of The American Musical Instrument Society, Volume 44, No. 1, Spring 2015, p22. The review is reproduced here with permission from AMIS.
=========================
Ana Benavides' book is directed to a non-specialist general public with a focus on the piano and its music from around 1729 until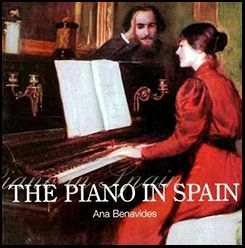 the early twentieth century in Spain. It is published in Spanish, Russian, and English (The Piano in Spain, ISBN: 8437009967072) with slight changes in the content and length. The book is divided into 12 chapters, plus a prologue by Andrés Ruiz Tarazona and an appendix listing the author's piano music editions as well as her audio recordings of Spanish piano music.
It is important to point out that rather than studying the history and development of the instrument itself, this book presents a broad musicological perspective. Benavides focuses her work in the socio-cultural aspects of the piano in Spain, exploring its music, performance spaces, performers, composers, and piano teachers. Only the first two chapters are dedicated specifically to the piano, the first being the introduction and the second being a chapter exploring early piano makers in Spain. The structure of these two chapters, also used in chapters 5 and 8, consists of an introduction followed by short biographies of relevant figures. Each of these biographies includes a brief text accompanied by very interesting images either in color or black-and-white. These images represent a very valuable resource, their quality and printing are generally good and they are properly credited and referenced.
Chapters 3 to 7 explore social aspects of piano music and its social context, focusing on performance spaces, music editions, Spain's Nationalism, Spain within Europe, and piano repertoire respectively. Chapter 8, "Maestros y Predecesores," is dedicated to piano teachers and includes fifty short biographies. Each biography is only one page long and comprises a small image, a portrait of the pianist, or a reproduction of the cover of one of his editions, a short text, about one paragraph long, and an excerpt of his music.
The last 4 chapters are longer biographies, each of them devoted to a particularly important Spanish composer for the piano: Isaac Albeniz, Enrique Granados, Manuel de Falla, and Joaquin Turina.
Throughout this book we find interesting quotations from important piano figures such as composers, academics, etc., all printed in a distinctive turquoise color. The text is presented without breaking its narrative, and with a few exceptions (pp. 15, 91, 155), is properly referenced. However, within the text we find opinions and ideas of other authors mentioned without suitable citations and vague references to non-specified sources (pp.16, 17, 20, 28, 29, etc.). Nonetheless, Benavides' work is laudable for exploring and investigating many obscure nineteenth-century Spanish musicians and their practically unknown music.
Altogether, this book is an interesting introductory text at a basic level, suitable for musicians, musicologists, and piano enthusiasts; it is written in an approachable language, contains useful information, and the collection of period images is a valuable iconographic resource.
Jonathan Santa Maria Bouquet
University of Edinburgh
Jonathan Santa Maria Bouquet is the Principal's Career Development Ph.D. Scholar and Conservator of musical instruments at the Edinburgh University Collection of Historic Musical Instruments.
The following new music review of our edition of Eugène Walckiers' Trois Duos Concertants Brillants et Faciles pour Deux Flutes, from Walckiers' 2me Livre de Duos pour 2 Flutes, Opus 11, appeared in the September, 2013 issue of Flute Talk magazine.  Subscribers may view the review, written by Katherine Borst Jones, in either the print or online edition of Flute Talk.  
=============================
(3-4) Ensemble - Trois Duos, Concertants Brillants et Faciles pour Deux Flutes, Opus 11, 2me Livre de Duos pour 2 flutes
Composed by Eugene Walckiers
Arranged by edited by Peter Bloom

Walckiers (1793-1866) was a French flutist who studied flute with Jean-Louis Tulou and composition with Anton Reicha. He was a prolific writer of chamber music and certainly deserves more attention by modern flutists. The publication contains extensive notes and material on the composer. The second duet is great material for sightreading as well as studying the 19th century style of composition. Printed as flute 1 and flute 2, separately, the copy is clear and easy to read. Two editions were sent, one with a score and parts and one with just the parts. ($15, Noteworthy Sheet Music, LLC, www.NoteworthySheetMusic.com). K.B.J.
Rosamund Plummer's review of our edition of Duetto 1 from Eugène Walckiers' 5th Book, Three Concertante Duets for Two Flutes, was published by Flute Focus on August 13, 2011.  We have reproduced the review here, with permission from Flute Focus.  Click to access the original online publication. 
 ======================================================
Review of Duetto No1 Eugène Walckiers
Written by Rosamund Plummer
I love playing duets.
When I was a student , the highlight of the end of any school term would be when my teacher, Margaret Crawford would pull out the Kulhau duets and we would play through as many as possible.  I loved how technically challenging they were and I have used them ever since with my own students.  That means I've been playing the same Kuhlau duets for 35 years!!  It's time for some new material.
The duets of Eugène Walckiers are similar in that they are technically challenging, and a lot of fun for players of varied standards - you can play them at a moderate tempo or go full pelt.  I have played them with my adult amateur (she said it was pretty...we did it very under tempo!) and an ambitious high school boy (who thought they were corny but wanted more), and a university student (she needs to do a lot more sight-reading...I must get more of these).  The most fun will be to play with a with a colleague up to full speed and really live dangerously!
The Facsimile Edition of Duetto No.1 from Three Concertante Duets was sent to me by it's publisher, Noteworthy Sheet Music.  I am so grateful that Noteworthy is preserving these pieces, originally printed by Paine and Hopkins, 69 Cornhill, London, and re-issuing them in this aesthetically very pleasing form.
Reading from the facsimile is a delightful compliment to the style of the music.  I find it helps me get in the "mood" to play this type of mid 19th Century music.  Rather than perfect but soul-less modern printing, we have the opportunity to play from what the original "sight-readers" of this music would have seen.  Old fashioned crotchet rests (which appear as backwards quaver rests) and stalks on the wrong side of some of the minims only add to the charm and cause no problems at all.
Eugène Walckiers (1793-1866) was a Flemish flute player and composer and there is interesting biographical information contained within the publication.
This duet has two fairly substantial movements, an Allegro Brilliante and an Aria Con Variazioni, which culminates in an hilariously exciting finale at minim = 80.
2011 Facsimile Edition by Noteworthy Sheet Music , LLC 
 ======================================================

Rosamund Plummer has extensive performing experience in Australia, UK and USA, and is currently Principal Piccolo with the Sydney Symphony, and combines a busy family life with her work as a part time lecturer in Flute at the Conservatorium of Music.