The following review of the compact disc Elizabeth Vercoe: Kleemation and Other Works written by Lee Passarella was published on September 26, 2013 in Audiophile Audition magazine. Noteworthy Sheet Music is proud to publish sheet music for Elizabeth Vercoe's works, including two pieces performed on this CD - the title track Kleemation for flute and piano, and To Music for flute alone (the bold font used to highlight these pieces was added by NSM).
=================================================================
"ELIZABETH VERCOE: Kleemation and Other Works" = Kleemation for flute and piano; Fantasy; Irreveries from Sappho; Herstory II: 13 Japanese Lyrics; To Music; Despite our differences #1 – Peter H. Bloom (Kleemation) and Nancy Stagnitta (To Music), flute / Mary Jane Rupert (Kleemation), Rosemary Platt (Fantasy, Irreveries), Randall Hodgkinson (Herstory), and Christine Paraschos (Despite our differences #1), piano / Elsa Chariston, sop. / Sharon Mabry, mezzo-soprano / Dean Anderson, percussion / Joseph Sheer, violin / Karen Kaderavek, cello / Richard Pittman (Herstory) and Theodore Antoniou (Despite our differences #1), dir. – Navona NV5884, 68:00 ***1/2:
================
Navona can be applauded for exploring the range of styles available to contemporary American composers, one that is really breathtaking, as the composers represented on these two discs attest. Styles range from the chromatic/atonal music of Elizabeth Vercoe through the frankly Reichian minimalism of Scott Pender to the modal, folk-influenced work of Daniel Perttu. Lots of very different musical influences here, as richly, confusingly varied as the styles that American painting or poetry can muster in the early twenty-first century. And while I'm glad for the opportunity to sample all of it, I'm also glad that Navona has chosen to provide Elizabeth Vercoe a retrospective showcase because I find her music the most satisfying of all.
Vercoe (b. 1941) also shows a willingness to adapt different musical styles and elements to her basic idiom: the essential atonality of her music is leavened with some well-chosen pop influences where appropriate to the subject matter at hand. That includes Kleemation, a work based on drawings by Swiss modernist painter Paul Klee. Klee's sometimes whimsical, sometimes troubling art turns for its inspiration to the uninhibited world of the child artist. The five drawings behind Vercoe's piece are helpfully reproduced in the notes to this recording. They are, indeed, both whimsical and a bit unsettling, and Vercoe captures both these essences in her music. The first piece, "Goodbye to You," "incorporates the title into the rhythm of the music. . .," while the second, "Please!" "draws on the vernacular tradition of swing music. . . ." So far, the music is unintimidating and attractively casual, matching the drawings. The more ominous side of Klee's art is explored in the other pieces, especially "Afraid of the Beach," with its dark swirls of sound from the keyboard, the anxious flutter-tonguing on the flute. Finally, there is "More Will Be Marching Soon" (reproduced on the album cover), a typically simple but frightening portrait of the soldier as mere cog in the modern fighting machine. Vercoe subtly worked the hymn "Onward Christian Soldiers" into her piece; it haunts the fabric of the score, flitting by in shards and pieces, a ghostly remnant of the original.
The most successful work on the program—at least my favorite—is Irreveries from Sappho, which brings pop musical-influences to bear on three of Sappho's brief lyrics: "Adromeda Rag," "Older Woman Blues," and "Boogie for Leda." Vercoe may take a page out of William Bolcom's playbook, but the results are witty, sly, very enjoyable. As Vercoe herself writes, "Sappho's poetry. . .seems remarkably up-to-date. Its wit calls for whatever musical sleight of hand the composer might muster. . . ."
Herstory, based on lyrics by Japanese female poets from the eighth to the twelfth century, also explores the themes of love and longing typical of Sappho, but in place of wit there is more of despair, reflected in Vercoe's somewhat histrionic approach to the poetry. In some cases, given the quiet intimacy of the verse, Vercoe's treatment is pretty much over the top. The writing for the accompanying instruments, however, is interesting— mysterious, often spookily evocative. Even so, I don't find this music as successful as the shorter Irreveries.
The piano Fantasy, on the other hand, exploits the resources of the piano in clever and musically satisfying ways. Vercoe not only unlocks the colors of the keyboard but asks the pianist to get inside the instrument and produce haunting, slithery sounds on the strings—not a new idea, of course, but handled with an ear well attuned to balance and variety.
There's more poetic reference in To Music, the titles of whose four short sections are taken from Russian poet Anna Akhmatova's work. Like the Fantasy, it successfully showcases the colors and techniques available to the modern practitioner of her instrument, in this case the flute.
I count Despite our differences #1 among my least favorite works on the program, but one problem is the hissy live recording made during the work's 1985 premier at Boston University. It's distant, thoroughly lacking in presence, and that seems to infect the music, which I find more than a bit dry and pedantic.
However, the other works on the program receive good recordings in a variety of venues and in performances that almost certainly have the imprimatur of the composer herself. On balance, this is a fine and varied showcase for Vercoe's considerable gifts.
================
—Lee Passarella
Peter H. Bloom's testimonial to Elizabeth Vercoe's composition Kleemation appeared on Amazon.com, where Noteworthy Sheet Music's publication of the piece can be purchased as a professionally-printed hard copy edition.  Mr. Bloom's 5-star testimonial is re-printed here for the convenience of our visitors.
===========================
Thrilling and rewarding for performers and (diverse) audiences alike.
5.0 out of 5 stars Thrilling and rewarding for performers and (diverse) audiences alike., January 19, 2014
By P. H. Bloom "PHB"
This review is from: Kleemation for Flute and Piano, by Elizabeth Vercoe (Paperback)
Having performed Kleemation dozens of times and throughout the world (from urban New York to rural South Dakota, from Boston to Bankok, to Chaing Mai, to Aukland, to Dunedin, to Wellington to Canberra) and having recorded it, I believe that this work of Elizabeth Vercoe is among the most vibrant, compelling, accessible, and moving pieces for flute and piano in all the literature.  It is demanding for both performers while approachable by the advanced conservatory student.  It challenges audiences without hostility.  The work is inspired by the darkly mysterious drawings of Paul Klee - subject matter that always seems to grab the attention of the audience.  Each movement of Kleemation is beautifully crafted and efficient; yet the range of musical language is broad and diverse.  The edition is beautifully typeset with clarity, good page turns, excellent cues, and immaculate editing.  Kleemation could be, in our repertoire, the Copland Duo or Poulenc Sonata or Chant de Linos of the 21st Century.
Dr. Laura G. Kafka's review of the compact disc Elizabeth Vercoe: Kleemation and Other Works was written for the Journal of the IAWM and appears in Vol. 19, No.1 (2013): 38-39. We reprint the review here in it's entirety, with permission from the Journal of the IAWM. Noteworthy Sheet Music is proud to publish sheet music for Elizabeth Vercoe's works, including two pieces performed on this CD - the title track Kleemation and To Music (the bold font used to highlight these pieces was added by NSM).
============================================
CD Reviews
Elizabeth Vercoe: Kleemation and Other Works
Peter H. Bloom, flute; Mary Jane Rupert and Rosemary Platt, piano; Sharon Mabry, mezzo-soprano; Boston Musica Viva, and others. Navona Records NV5884 (2012). ASIN B00925TAAU.
LAURA KAFKA
Kleemation and Other Works, a compilation recording of the highest quality from both an artistic and an engineering standpoint contains six of Elizabeth Vercoe's vocal and instrumental compositions composed from 1975 to 2003. Although four of the compositions were previously released on other recordings, it is a pleasure to find these six works assembled together here. Clear, extensive liner notes by the composer include song texts, facsimiles of the five drawings by Paul Klee that inspired Kleemation, and photographs of the composer and performing artists.
Kleemation for Flute and Piano, a five-movement, fifteen-minute work,is performed by "2" (Peter H. Bloom, flutes, piccolo; Mary Jane Rupert, piano, harp), a distinguished musical duo of more than twenty years' international standing. Vercoe musically renders Klee's drawings with all the humor, fear, and reality that make each one leap from its canvas and dance. The second movement, Please!, draws on the swing music with its lounge-lizard-like appeal that Vercoe cleverly manipulates before returning to an echo of the easy-going opening of the movement. Vercoe composed More Will be Marching Soon as U.S. troops entered Iraq in March 2003. It incorporates the hymn "Onward Christian Soldiers" into both the flute and the piano parts in the anxiety-infused fourth movement. The composer indicates that the final movement of the work, "Woman Sowing Weeds," has "subversive intentions." Decidedly hopeless in character, it features a flickering flute symbolic of the woman's hand gesture as she scatters the seeds; a staccato piano represents "raining down tiny seeds." This eloquently reminds us that the seeds sown by war's atrocities have repercussions lasting for generations to come.
Fantasy, a ten-minute solo piano composition in six contrasting sections, is bold, free-flowing, and dramatic. It affords the pianist an opportunity to utilize the instrument as an orchestra, with a wide variety of color and timbre. The work explores rhythm and tempo and features effects such as strumming the piano strings, glissandi, arpeggios, and trills. Vercoe's musical directions on the score are minimal, leaving the pianist maximum latitude for personal interpretation. Rosemary Platt plays with bravura and broad sweeping strokes.
Irreveries from Sappho is a witty seven-minute song cycle in English for mezzo-soprano or soprano and piano, one of eight cycles on texts by women. Although Sappho, the Greek female poet, lived approximately 2,600 years ago, the poetry selections are appropriate and enduring themes for women today. From start to finish the writing is imaginative: traditional counterpoint and recitative are interspersed with musical "sleight of hand" (as Vercoe calls it in her liner notes). The composer's website states that Irreveries is "wickedly satiric and full of musical jokes and parodies" (including snippets of "Turkey in the Straw" and "Auld Lang Syne"). It asks the singer to use glissandi and Sprechstimme, and to take on the personality of each of the three women depicted in the three songs. The cycle requires expert technique on the parts of both singer and pianist, coupled with a good sense of humor and the ability to "sell the song" without apologizing for it. Mezzo-soprano Sharon Mabry has a full, well-placed and well-controlled middle voice which fits the vocal requirements of these songs like a glove, and she is skillfully accompanied by Rosemary Platt. The songs can also be sung by sopranos, as long as the middle voice has enough full-bodied color and texture, and Vercoe also has an SSA arrangement for choir.
Herstory II: 13 Japanese Lyrics is a nineteen-minute English song cycle consisting of thirteen songs for soprano, piano and percussion. The texts, in a haiku-like form, are by medieval Japanese women poets. InLady Suo or in Lady Horkikawa, Lady Ukon, the singer is asked to speak the text, and in The Poetess Ono No Komachi and Lady Izumi Shikibu, to whisper it. The vocal line is always dramatic and at times requires the singer to execute wide leaps, as in Interlude 2, Lady Akazome Emon. Herstory II does not require a singer with a large voice, but welcomes a flexible and an exceedingly expressive one that can tackle the demands of the highly dramatic text. Both the piano accompaniment and the percussion part lend an exotic character to the cycle and imbue it with mystery and interest that is almost frightening at times, primal and raw. The over-all mood of the cycle is tense and the women depicted border on the hysterical, reminiscent of Richard Strauss' settings of Shakespeare's Ophelia Lieder. Members of the internationally acclaimed Boston Musica Viva interpret this cycle in a fashion that leaves the listener convinced that their interpretation is the only possible one.
To Music is a five-minute work for solo flute in four separately-titled contrasting sections inspired by the poetry of Russian writer Anna Akhmatova. The interpretation of To Music by flutist Nancy Stagnitta is imaginative, playful, clear, and virtuosic—a true listening pleasure. The multiphonics were especially enjoyable.
Despite Our Differences I is a thirteen-minute movement for piano trio composed in Paris in collaboration with Greek-American pianist Christine Paraschos, to whom the work was dedicated after the pianist's tragic death in 1997. The recording is a live and unedited performance that was premiered at the "Women's Music Festival/85" at Boston University. Alea III's performance with guest pianist Paraschos is a musical collaboration of the highest order, executing Vercoe's dramatic music with virtuosity and style.
Elizabeth Vercoe's Kleemation and Other Works is outstanding in every respect, an artistic masterwork that merits high praise. I cannot recommend it too highly. It seduces the listener down a path leading to a musical landscape that is abstract yet accessible. Both the audio CD and the MP3 download are available from Amazon, iTunes, and Spotify. I further recommend that the reader make time to visit the composer's comprehensive website (www.elizabethvercoe.com).
Dr. Laura G. Kafka is an educator, musicologist and singer from California, residing in Maryland. She has taught music at every level from elementary through university undergraduates and she has worked in arts administration. Additionally, she sings recitals and adjudicates solo vocal competitions and choral festivals. Her interests include Karol Szymanowski and translating Polish and French poetry into English performance editions for art songs and children's choral literature (This email address is being protected from spambots. You need JavaScript enabled to view it. ).
Flute Focus published the following review (9/19/2013) of Antonio Figueiredo's arrangement of Na Rua dos Meus Ciúmes for woodwind quintet; the review was written by John Ranck, DMA.
=======================================================================
Na Rua dos Meus Ciúmes – Traditional Portuguese Fado
Arr. For Woodwind Quintet by Antonio F. Figueiredo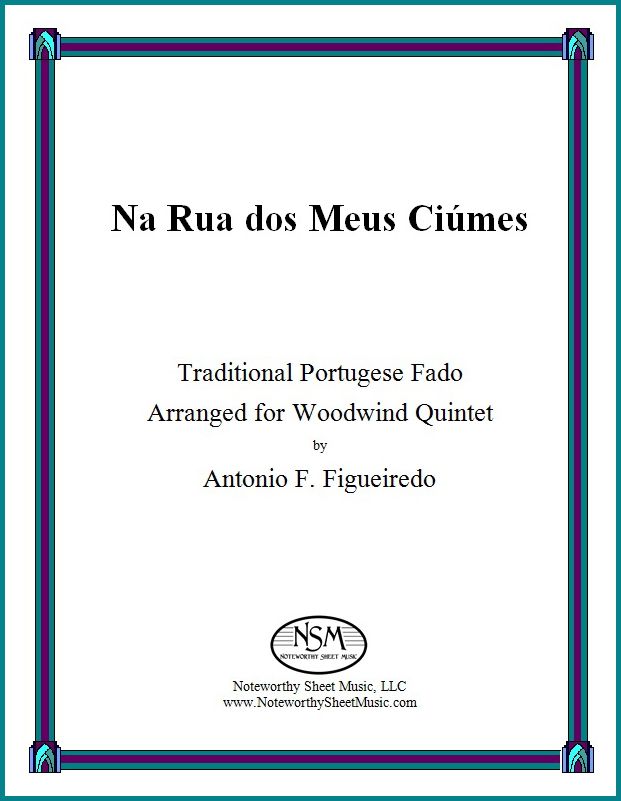 This brief piece is a charming addition to the quintet repertory. The edition comes with both score and parts; the former includes chord indications which will be helpful for student players to explore its underlying harmonies and for experienced players to come up with embellishments of their own. The parts are clearly laid out, very easy to read, and each fits on a single page. The publication also includes informative explanatory material about the story of underlying this particular fado, though a brief exploration of the fado as a song form, and of its history, would be welcome. This piece would make an interesting pairing with Danzas Mecánicas by Peter Van Zandt Lane, also in the Noteworthy catalog, or with Armando Ghidoni's jazzy Badaluk-Concerto.
Mr. Figueiredo has other fado transcriptions for wind quintet, and I look forward to their appearance in the Noteworthy catalog.
John Ranck, DMA
http://johnranck.net/studio/studio.html
=========================================================================
Antonio F. Figueiredo's arrangement of the traditional Portuguese fado Na Rua dos Meus Ciúmes for woodwind quintet is available from Noteworthy Sheet Music, LLC. Visit the NSM website at www.NoteworthySheetMusic.com to download the music as a PDF.
The following review of Mary Jane Rupert's arrangement of The Nutcracker for flute and harp was written by Cynthia Price-Glynn.    
=======================================================================
The Nutcracker Suite
from the ballet by Tchaikovsky
arranged for Flute & Harp by Mary Jane Rupert
Finally - - - harpists get to play all the wonderful character pieces in this very popular and well-known ballet suite . . . not just the Waltz of the Flowers.
Mary Jane Rupert has done a masterful job of capturing the mood, attitude, and even humor of these pieces that are recognizable all year round. Her partnering of the two instruments actually mirrors the color and nuances of the original orchestration.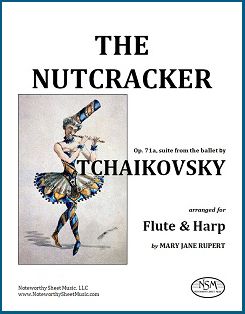 The suite is certainly worthy of the concert stage, and certainly delightful in any setting (formal or informal) during the winter holidays. Besides flute, they could also be played on violin or clarinet.
Some pieces are technically challenging for harp and for flute - - but well worth the effort.  All seven can be performed together as a suite, or in groupings of two or three pieces.  Students could learn the pieces one by one as they progress technically.
The publication (by Noteworthy Sheet Music) is very clear and precise, easy to read and on high grade paper - - to last through years and years of being played.
Players and listeners have enjoyed Mary Jane's "Nutcracker" arrangement for years in the Boston area. This is a 'must-have' for anyone who likes having fun in a duo while making beautiful music that everyone loves to hear.
Cynthia Price-Glynn
Principal Harp, Boston Ballet
Chair of the Harp Department, Boston Conservatory