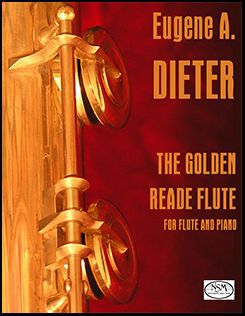 The Golden "Reade" Flute, by Eugene A. Dieter
Flute Part and Piano Score ― PDF $7.99
Elmer Reade (1898-1986), to whom The Golden "Reade" Flute is dedicated, served a long and distinguished career, first as a flutist with the U.S. Army Band and then as a conductor and music director of the Air Force Band at Mitchell Field, New York. Eugene A. Dieter graduated from the first class of the US Army Music School in 1941 and was appointed a bandmaster. Following the Second World War, Dieter accepted a bandmaster position with the Air Force Band and remained active until his retirement in 1966. Likely, it was as an Air Force band colleague of Elmer Reade's that Dieter was inspired to compose The Golden "Reade" Flute. (excerpted from the foreword © by P. H. Bloom)
Not at all militaristic in character, The Golden "Reade" Flute is more a lovely barcarole, a single Andante moderato movement in 6/8 time. It offers interesting writing for both parts, so flutist and pianist will be equally pleased. The title refers to the gold flute by William S. Haynes upon which Reade regularly performed.
Click to preview p1 of The Golden "Reade" Flute score for flute and piano.
Piano score, 4 pages; Flute part, 2 pages.