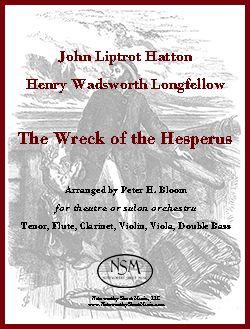 The Wreck of the Hesperus, by J. L. Hatton & H. W. Longfellow
Arranged for theatre or salon orchestra by Peter H. Bloom
Tenor, Flute, Clarinet, Violin, Viola, & Double Bass Parts, and Mini-Score ― PDF $19.98
Pre-NFA Convention Special Sale!
From July 17 to July 30, 2019, the price of this PDF edition is 20% off the displayed list price. Just click the "Add to Cart" button and check out; the discounted price will register on the PayPal site before you make payment and download your PDF.
The "dramatic scena" was an especially popular entertainment at its zenith in the mid-nineteenth century throughout the English speaking world. John Liptrot Hatton's setting of Longfellow's Wreck of the Hesperus is the very model of the dramatic scena at its finest, and a magnificent showcase for an heroic tenor. Longfellow's ballad recounts a chilling tale loosely based on conflated reports of two New England shipwrecks that occurred during a single devastating blizzard in 1839. This arrangement of Wreck of the Hesperus for theatre or salon orchestra was made for the now retired D.C. Hall's New Concert and Quadrille Band of Boston, and their extraordinary tenor Kevin McDermott. It can be heard on the Hall's Band's CD recording "Grand Concert," winner of the Noah Greenberg Award of the American Musicological Society. (excerpted from Peter H. Bloom's © foreword)
Click to preview p1 of the Mini-Score for tenor, flute, clarinet, violin, viola, and double bass (rotate view after opening).
Click the mp3 icon to listen to an audio clip of Wreck of the Hesperus from the Hall's Band CD recording Grand Concert!.

The D.C. Hall's Grand Concert! CD is available from NSM - click to access the page.
Tenor part, 4 pages; Flute part, 2 pages; Bb Clarinet part, 2 pages; Violin part, 2 pages; Viola part, 2 pages; Double bass part, 2 pages; Mini-Score, 8 pages; Total, 26 pages.
===========================================
We also offer a professionally-printed hard copy edition of The Wreck of the Hesperus for $29.97 plus a $5.95 shipping and handling fee to addresses in the USA. Please use the Contact Us form to let us know which hard copy publication(s) you would like to purchase, along with your email contact information and USPS mailing address. We will then send you a PayPal invoice for the sale and, once we receive notice from PayPal that you have paid for the item(s), we will ship your music to the address provided.