Featured Works - October, 2017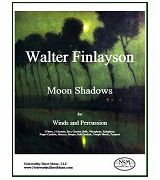 Score and parts for two flutes, two clarinets, bass clarinet, bells, vibraphone, xylophone, finger cymbals & maracas, bongos & roll cymbals, temple blocks, and tympani. NSM's newest publication is a very interesting, energetic piece written by Walter Finlayson—composer, arranger, musician, and educator.
Alto Flute part. Gabriel Fauré's popular "Sicilienne" (Opus 78) works beautifully on alto flute, so check out our nicely-notated, easily-affordable alto flute transcription.
>