Featured Works - January, 2018 - Happy New Year!
>
Score and parts for two flutes. This piece is Duo 3 from Hoffmeister's "Trois Duos pour Deux Flûtes, Op.50". Undeserving of its current obscurity, the duet has been resurrected and re-typeset for contemporary players to enjoy.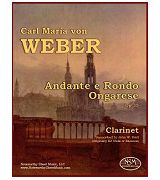 Part for B-flat clarinet. Carl Maria von Weber's Op.35 was first written for viola and later revised for bassoon. Transcribed by John Pratt, it also makes a great showpiece for the clarinet.
>