Featured Works - September, 2015
Alto Flute Part. The Op.120 No.1 sonata was written originally for clarinet, but Brahms himself created arrangements for both viola and violin, attesting to its successful adaptability to other instruments. Now John Pratt has created a sensitive transcription of this treasured work for alto flute.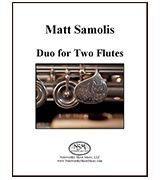 Score for Two Flutes. This contemporary flute duet was written by Boston composer and flutist Matt Samolis using twelve tone techniques. Check out the listing to preview a page of the score.
>