Featured Works - August, 2015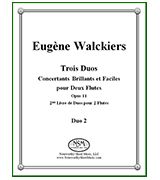 Flute 1 & 2 Parts and Score. Eugène Walckiers was a masterful composer of 19th century chamber music, and also a flutist. This duet is the second of three included in Walckiers' second book of duets for two flutes, "Trois Duos Concertants Brillants et Faciles pour Deux Flutes" (Opus 11). The duet is suitable for performance, or just great fun for sight-reading. The work came to NSM from the "Gassett Collection", as a faded print copy of the original publication. The piece has since been renotated for the convenience of modern-day players, and is available either in hard-copy edition or as a PDF download.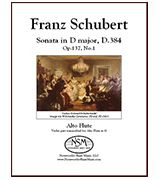 Alto Flute Part. Schubert's Op.137 violin sonatas are delightful early works, written in 1816 when the composer was only 19 years old. Scholars often mention the influence of Mozart evident in these pieces, particularly in the first movement of Schubert's Sonata in D major, D.384 (Op.137, No.1). This sonata has three movements—Allegro molto, Andante, and Allegro vivace. We have adapted the violin part for alto flute—see for yourself how enjoyable it is to play.
>