Featured Works - June, 2015
Flute 1, 2, & 3 Parts and Score. "A Grand Trio for Three Flutes, Concertante", Op. 102, was Charles N. Weiss' favorite trio, which he dedicated to his brother. A weathered copy of the original print edition was found in the Gassett Collection, and the piece was re-notated by NSM.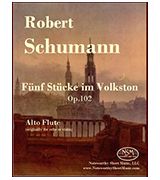 Alto Flute Part. Robert Schumann's "Fünf Stücke im Volkston" were written for cello and piano. Clara Schumann thought them beguiling, fresh, & original. Already arranged for other instruments, and popular for good reason, our transcription of "Five Pieces" is now available for alto flute.
>